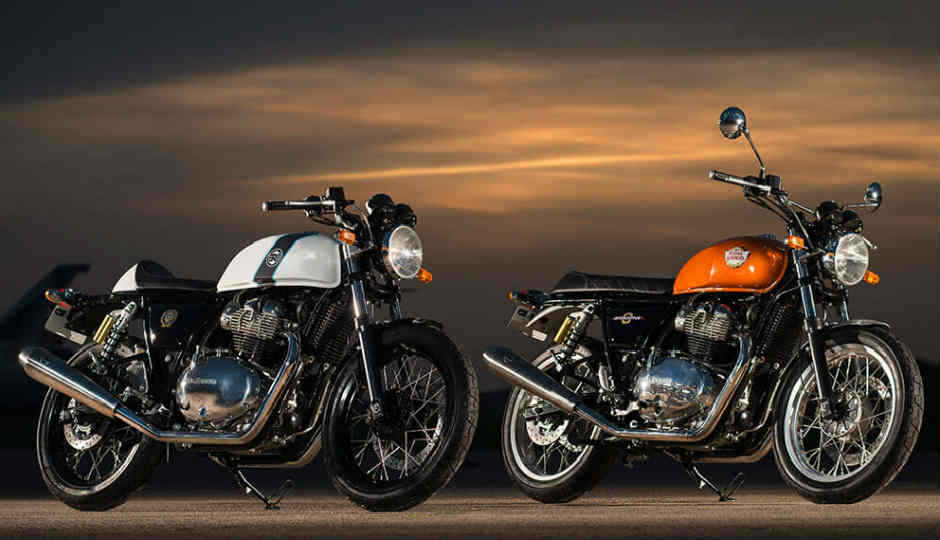 photo credit-INT
Royal Enfield launches Interceptor GT650 and Continental GT650 on Sunday in front of hundreds of motorcycle lovers in its annual Rider Maenia here.
Two air-cooled engines of 650 cc have been provided with oil coolers for better performance in both motorcycles. These oil-driven motorists will give the power of 47 PSs at 7,100 rpm and will give the power of 52 nm at 4,000 rpm.
Both motorcycles were launched in Milan, Italy on November 7, 2017.
Six-speed gearboxes have been provided in the new interceptor, which has been specially developed for this motorcycle.
The gearbox is enlarged by a 'slip / Aust' clutch, which helps in driving motorcycles in traffic easily, and also protects the wheel-hop while reducing the gear. This feature is given for the first time in Royal Enfield motorcycles.
In the motorcycle, there are disc brakes ahead and behind with ABS. There are 18-inch Pirelli tires in front and rear and two shock armors are present.
While Continental GT 650 looks like the current Continental GT535 There are headlamps and fuel tanks in GT 650, which are in GT535. Some changes have been made in the back of the carriage.
Following the launch of two new motorcycles, Royal Enfield CEO and MD Siddharth Lal said, "Both the Interceptor 650 and the Continental GT650 will be easily available in India in terms of price and maintenance."
He said that both of the new motorcycles will be available in the showroom from March or April. Without specifying the price of motorcycles, Lal indicated that it would be available between Rs 3 and 3.5 lakh.
---------------------------------------------------------------------------------------------------------------------------------------------------------------------------- If You have any Questions or Query You can freely ask by put Your valuable comments in the COMMENT BOX BELOW আপনার যদি কোনও প্রশ্ন থাকে তবে আপনি নিচে COMMENT BOX এ আপনার মূল্যবান মন্তব্যগুলি করতে পারেন । #Don't forget to share this post with your friends on social media
Tweet
Follow @TechxpertBangla