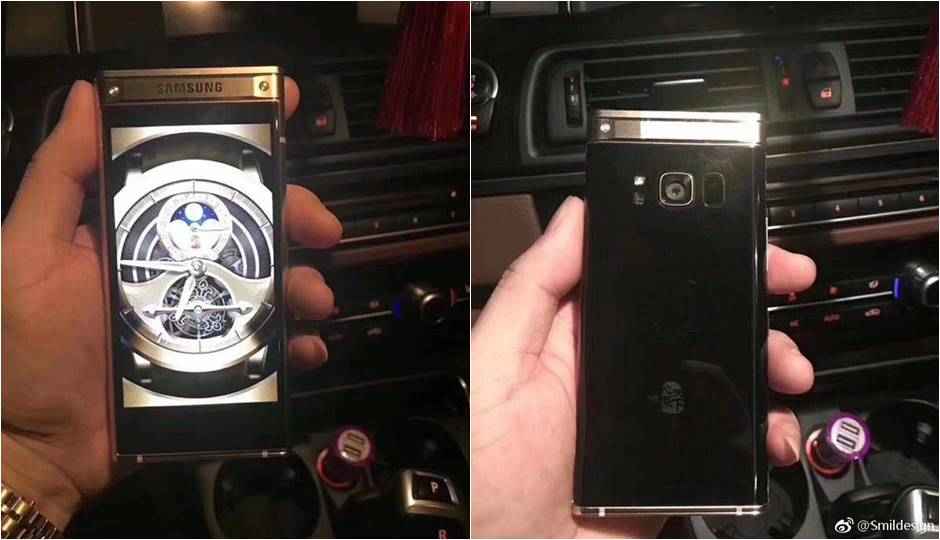 photo credit-INT
Photos of the Samsung SM-W2018 smartphone were seen online, from which it is known that the company is working on the last year's W2017 flip phone accessor.
The upcoming Samsung SM-W2018 flip phone has appeared in the form of photos posted by Chinese Tipster. These smartphones will be the most premium flip phone ever and will be equipped with dual display with super AMOLED panels. This phone has 6GB RAM and Qualcomm Snapdragon 835 chipset.
Samsung and LG are two smartphone manufacturers, who still make flip phones, but they are mostly limited to the Chinese market. Korean smartphone manufacturer's last flip smartphone was Samsung G-9298. However, the Samsung SM-W2018 flip is not yet known about all the specification of the phone.
Leaked image shows that these phones will be equipped with a metal body. It seems that this phone will have a single rear camera and the fingerprint sensor will be present next to the camera. And the Samsung SM-W2018 is expected to launch first in China and if the rumors are believed, then it could be worth about $ 2,000 (about Rs. 1,30,000).
--------------------------------------------------------------------------------------------------------------------------------------------
If You have any Questions or Query You can freely ask by put Your valuable comments in the COMMENT BOX BELOW
আপনার যদি কোনও প্রশ্ন থাকে তবে আপনি নিচে COMMENT BOX এ আপনার মূল্যবান মন্তব্যগুলি করতে পারেন ।
--------------------------------------------------------------------------------------------------------------------------------------------
Tweet to @TechxpertBangla
---------------------------------------------------------------------------------------------------------------------------------------------------------------------------- If You have any Questions or Query You can freely ask by put Your valuable comments in the COMMENT BOX BELOW আপনার যদি কোনও প্রশ্ন থাকে তবে আপনি নিচে COMMENT BOX এ আপনার মূল্যবান মন্তব্যগুলি করতে পারেন । #Don't forget to share this post with your friends on social media
Tweet
Follow @TechxpertBangla