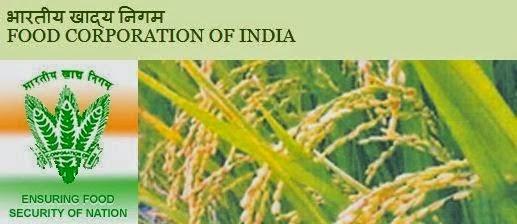 photo credit-INT
Haryana Corporation will be appointed as the Watchman for the Food Corporation of India. 380 vacant posts. Apply online from the Food Corporation of India website. The last day of the application is December 4.
Name of post: Watchman
Educational qualification: Class eight or equivalent
Age: Maximum 18 years
Salary: Months 8,100 to 18,070
SC and ST-R will get 5 years' discount respectively. OBC will get 3 years' discount. PWD-10 year discount
Candidates will be selected through written test and physical examination examinations. The written test will be - Ambalala, Bhiwani, Chandigarh, Faridabad, Gurgram, Hisar, Kathal, Karnal, Kurukshetra, Panchkula, Panipat, Rewari, Sirsa. It costs 250 rupees to apply. The money will be sent to net banking or bank invoice.
Accomplishment slip with unique registration number will be available if form flip is correct. It has to be kept by yourself.
-----------------------------------------------------------------:
ATTENTION PLEASE
:----------------------------------------------------------------------নিয়গের প্রক্রিয়া সম্পর্কিত যে তথ্য উপরে আলোচনা করা হয়েছে, বিভিন্ন সরকারী সংস্থা বা কর্মসংস্থান সংবাদ থেকে তথ্য সংগ্রহ করা হয়। আমরা একটি নিরপেক্ষ সংস্থা আমাদের সঙ্গে নিয়গের কোনোরকম সম্পর্ক নেই । তাই আরও বেশি তথ্যের জন্য সরকার / বেসরকারি সংস্থার অফিসিয়াল ওয়েবসাইটের মাধ্যমে কাজের সিক্সার্সদের অনুরোধ করা হয়। আমরা তৃতীয় পক্ষের মিডিয়া এজেন্সি বা ওয়েবসাইট দ্বারা প্রদত্ত যে কোনও ভুল বোঝাবুঝি বা মিথ্যা তথ্যর জন্য দায়ী নই।
উপরের পোস্টের জন্য আবেদন করার পূর্বে পুনরায় প্রয়োজনীয় কাজের বিশদটি পড়ুন। সত্য এবং সঠিক তথ্য সহ আপনার আবেদনপত্র পূরণ করুন অন্যথায় আপনার প্রার্থী বরখাস্ত করা হবে।
--------------------------------------------------------------------------------------------------------------------------------------------------------------
---------------------------------------------------------------------------------------------------------------------------------------------------------------------------- If You have any Questions or Query You can freely ask by put Your valuable comments in the COMMENT BOX BELOW আপনার যদি কোনও প্রশ্ন থাকে তবে আপনি নিচে COMMENT BOX এ আপনার মূল্যবান মন্তব্যগুলি করতে পারেন । #Don't forget to share this post with your friends on social media
Tweet
Follow @TechxpertBangla