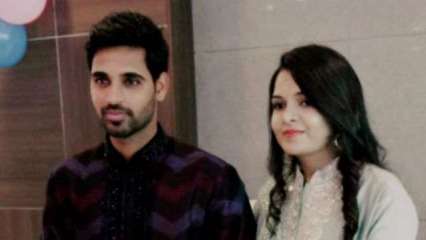 Bhuvneshwar Kumar, the fast bowler of the Indian cricket team, is bound to get married. Before his marriage, his fellow players are fraying their legs. Opener Shikhar Dhawan of Team India then called Bhuvaneshwar 'Joro ka Ghulam' before marriage.Indian team player is very excited about the wedding of Bhubaneswar Kumar. Team 'Gabbar' Shikhar Dhawan has shared a video in which he is seen answering questions from Bhuvya. Bhuji will be tied on Thursday with his girlfriend Nupur. Dhawan has termed Bhuvan as 'Joro ka Ghulam' from marriage.
Dhawan asked Bhai what kind of ailment you are getting before marriage. In response, he said everything was done by the villagers, I was busy in the game. Pointing to Dhawan, he said, "It is great to hear after marriage." When called 'Joro ka Ghulam', Bhuvi said, he does not think he is a slave of Joru. He is saying that he is a slave of Joro, that is actually his love, for the wife to be born.
— Shikhar Dhawan (@SDhawan25) November 22, 2017
Dhawan shared this fun video on his Twitter account. In which he is asking Bhubaneswar about the feel before the wedding, as well as being seen pulling him down. Although Dhawan may have tried to pull Bhuvi's leg, he turned his back on Dhawan's move in his own style.
---------------------------------------------------------------------------------------------------------------------------------------------------------------------------- If You have any Questions or Query You can freely ask by put Your valuable comments in the COMMENT BOX BELOW আপনার যদি কোনও প্রশ্ন থাকে তবে আপনি নিচে COMMENT BOX এ আপনার মূল্যবান মন্তব্যগুলি করতে পারেন । #Don't forget to share this post with your friends on social media
Tweet
Follow @TechxpertBangla